AMUOBA Riyadh marks Sir Syed bicentenary with fervor
Originally Reported on Saudi Gazette By Mir Mohsin Ali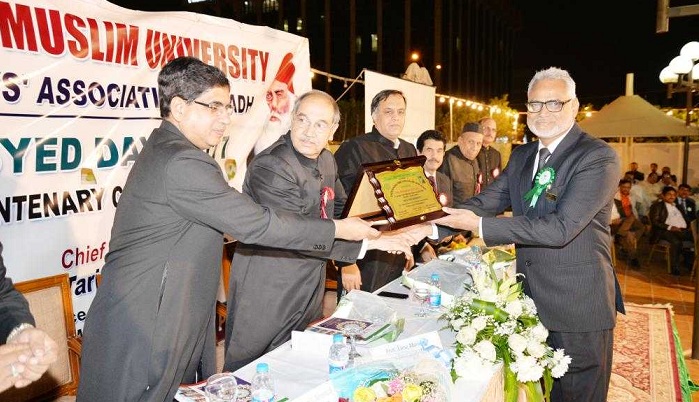 RIYADH: Aligarh Muslim University Vice Chancellor Dr. Tariq Mansoor, who was the chief guest, invited AMU alumni to visit the University and participate in the academic affairs of their concerned department to motivate the students — a new concept of past helping the present with their experiences.
This practice has already begun with the AMU alumni in US organizing several programs in four faculties, with a gradual extension to all departments in the next six months.
He extended this invite during the bicentenary celebrations of Sir Syed Ahmed Khan organized by Aligarh Muslim University Old Boys Association Riyadh Chapter at Riyadh Palace Hotel. He invited AMU alumni across the world to participate in this program. They can visit the University for few days, set out from their annual visit to India.
Dr. Tariq also announced that AMU has signed a MoU with Queen Elizabeth hospital, Birmingham, which is regarded as one of the best medical colleges in Europe.
Four faculty members have been sent there for two-year fellowship program. The alumni in UK has facilitated the signing of the MoU. He requested AMU alumni to contribute in the development of university. Other than financial support they can help the University in many ways, he added.
He also announced that the central government recently announced a grant of 90 crore rupees to the university to establish a college of nursing, medical college, research scholars hostels, smart class room, and moderniztion of existing hostels.
He said they are working on a internship scheme for the children of alumni — the internship being for 15 days to 3 months. In addition he revealed the university's effort to start giving alumni award by forming a jury.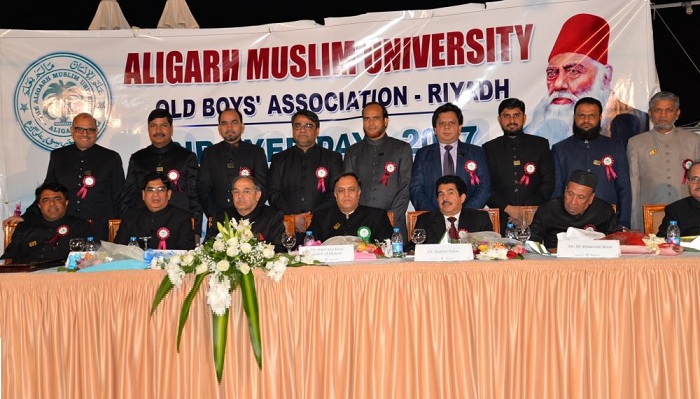 AMU Alumni can play very important role in addition to providing funds like helping AMU pass outs in placements and various alumni working in education can visit to lecture and inspire students.
He lauded AMU for consistently getting good ranking, stating, the law faculty has been ranked second in India by India Today, fine arts have been ranked 6th best in the country, Jawaharlal Nehru Medical college 12th best in India and Zakir Hussain College of Engineering has been ranked 17th best in India.
Guest of Honor Dr. Suhel Ajaz Khan, deputy chief of mission at the Indian Embassy, said education is a tool for personal growth and also transformation of the society. It enables person to think the best of him, think rationally and creatively to live his life with dignity and happiness.
Dr. Suhel said education has an important role in development of our country. The Indian government has given utmost importance to education, particularly education of the girl child.
DCM cited the example of his mother, who had been an educationalist for 41 years. He said, "Because of his mother he is here. If a girl is educated it is like educating the whole family, for women have the power to educate the family and society."
The function was presided over by Mukarram Ali Khan. AMUOBA's first president Dr. Nadeem Tarin also spoke on this occasion. Mohammed Zianur Arifin gave a speech on Sir Syed Ahmed Khan.
AMUOBA President Suhail Ahamad presented a plaque to Dr. Tariq Mansoor. The AMUOBA team unveiled "We the Aligs" the annual souvenir-cum-directory 2017-2018.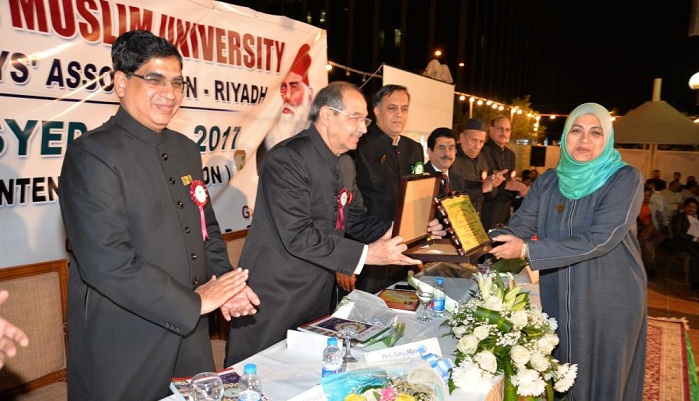 Ahamad, in his welcome address, said AMUOBA Riyadh actively participates and promotes several social, cultural and educational activities in Riyadh and back home — like scholarship program for underprivileged students, setting up new schools, upgrading the existing schools and many more. He announced that new AMUOBA team would take office by Jan. 15, 2018.
AMUOBA Riyadh felicitated and presented plaques of appreciation to Dr. Ahamad Badshah, former president, AMOUBA, Dr. Shaukat Perwez, IISR principal, Principal in charge Asma Shah, IISR Girls Section and Mir Mohsin Ali.
Dr. Hifzur Rahman, first secretary at the Indian Embassy, Dr. C. Rambabu, second secretary, political and economic, Kundan Lal Gothwal, AGM, Air India, and all Aligs and their families and various associations' heads and large number of Indian community were present.
Earlier Abdul Ahad Chowdry recited few verses of holy Qur'an to start the function. Abdul Raheem and Arshad Ali Khan, general secretary, conducted the proceedings, Salman Khalid, vice president, proposed a vote of thanks. The AMU Tarana and National Anthem were sung by Tarana team.